Fallout 4 (2015); Bethesda Game Studios; published by Bethesda Softworks; Designers:  Todd Howard and Emil Pagliarulo;  Artist:  Istvan Pely; Programmer:  Guy Carver; Writer:  Emil Pagliarulo; Composer:  Inon Zur; Genre:  Action role-playing; Series:  Fallout
This is the first game I've played of the series, so I'm likely missing quite a bit of back story and references while playing through.  The first person shooter/post apocalyptic role playing is immersive and hours could pass by before you realize you've just been building a settlement.  It factors in the nostalgia factor for the 40s-50s and the height of the Cold War.  The juxtaposition of the past memorabilia and the sudden overwhelming futuristic use of nuclear power is familiar while unsettling.  I still have much left to play through, but I find it's definitely worth the time, energy, and devotion.  It's available on consoles or P.C.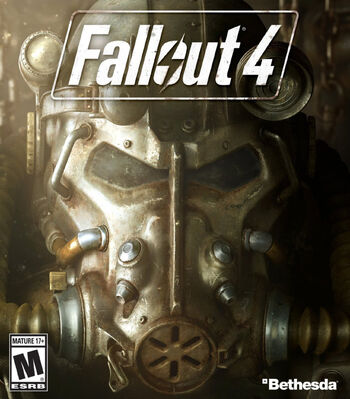 Sims 4 (2014); Developed by Maxis, The Sims Studio; Designers:  Eric Holmberg-Weidler, Matt Yang; Artists:  Magnus Hollmo, Samantha Miceli, Steven Ross; Writer:  Danielle von Mayrhauser; Composer:  Ilan Eshkeri; Genre:  Simulation;  Series:  The Sims
This simulation game is the 3rd Sims game I've played.  I really liked Sims 3, so following up with the P.C. version made sense.  The settings allow for reverting to more familiar communication or using mods.  There are a few mods that add hair styles, clothing, and decorative objects.  I like a few of the food mods as well.  There are quite a few expansion packs, stuff packs, and game packs that add to the details of the experience.  I am looking forward to the Pets pack, released in November 2017, which should seem familiar from Sims 3 Pets.  There are some challenges, as sometimes bugs can spoil a game and you have to revert [hopefully] to an earlier save.  Using mods also can create some problems, but it is possible to disable them and play the original game without problem.  A fun game, especially with all of the creations out there from the Sims community.
The Elder Scrolls V:  Skyrim (2011):  Developed by Bethesda Game Studios; Designers:  Todd Howard, Emil Pagliarulo, Bruce Nesmith, Kurt Kuhlmann; Director:  Todd Howard; Artist:  Matthew Carafano; Writer:  Emil Pagliarulo; Composer:  Jeremy Soule; Genre:  Action role-playing; Series:  Elder Scrolls
This is one of my all time favorite video games.  I've purchased it for every platform I possess.  One of the things I love best about Skyrim is that the world is expansive, beautiful, and interesting.  The design is amazing.  I love the choice in how your character begins his/her journey throughout the world, and the dynamics that change as your character progresses through the quests.  I've played previous Elder Scrolls games, so I'm familiar with the series.  Prior to Skyrim, Morrowind was my favorite game.  It's quite possible to lose time because of the immersive world, so I tend to set an alarm clock.  It's been released as a Special Edition with mods enabled, and there are a few mods for the P.C. that I enjoy, especially becoming a bard.  I tend to love fantasy/RPG games tremendously.  Like the other Elder Scrolls games, the soundtrack is amazing.
Dragon Quest VIII (2004)  Developers:  Square Enix Holdings, Level-5, Armor Project; Designer:  Yuji Horii; Director:  Akihiro Hino; Artists:  Akira Toriyama, Takayuki Sameshima, Kazunari Matsuo; Writer:  Yuji Horii; Composer:  Koichi Sugiyama; Genre:  Role-playing; Series:  Dragon Quest
This game feels classic to me, but that's because I've played it to completion a few times and loved every minute of it.  The characters are fun, and I love Akira Toriyama's art style, so it's fun dressing the characters in different clothes throughout the game.  The fights are party based, so fighting takes cunning and planning.  Grinding is definitely a feature if you want to level up your characters, fighting countless monsters and such.   I've been getting the urge to replay this game, but it's not released for some of the most current platforms, but it is for the 3DS.  I can dust off the PS2, however, and have a go.